Here is part 2 of 'Kicking Back in Koh Samui': Cooking schools, massage, partying, shopping, technology and how to pay for stuff! I have just realised my DREAM JOB in writing this: Taking small groups of lovely ladies to Koh Samui and being their tour guide! I can just imagine them getting off of one the bus services like Phantip Travel that run from Phuket to Koh Samui and showing them around this fantastic place. The only way this could have been even more perfect if I were on the beaches of Koh Tao which isn't far from Koh Samui, but just cause I'm not enjoying that beautiful view doesn't mean you can't enjoy the scenery from Bangkok to Koh Tao. I knew my degree in Tourism Management would come in handy some day!
Cooking School – SITCA
There's a bunch of cooking schools on the island, including offered at the restaurant of many resorts (including ours). My brother and I are both foodies so this activity was a no-brainer for us! After a bit of research we booked in to SITCA (Samui Institute of Thai Culinary Arts) in Chaweng and spent a wonderful (air conditioned) afternoon learning how to cook authentic Thai from their professionally trained staff. All classes start with preparing a Thai curry paste from scratch and you also prepare three other dishes. There is a different paste and Thai curry dish on offer for each day (Monday to Saturday) so it pays to check out their website in advance to see what's on offer, as well as book ahead as the classes are really popular. We made green curry paste, Green Chicken Curry, Phad Thai with prawns and a Spicy Coconut Chicken Soup. All dishes were utterly spectacular and among some of the food I enjoyed the most on the whole holiday. A nice bonus: As all the meals you cook feed two people you can invite a friend to join you for the group meal, which takes place in their dining room immediately after the class. Mum came along as my guest but we still didn't finish all the food, so we left with a doggy bag! I'm pleased to report I visited our local Asian Grocery after I got home to buy some key ingredients and I've successfully re-created all the dishes in my own kitchen!
Pricewise SITCA's classes cost NZ$85 and we felt this was good value. The only downside for me was struggling to understand the thick accent of the Thai chef, which surprised me as I've got a good ear for both languages and deciphering accents. But, as long as you pay attention you can mimic what he does, or, at worst case, follow the recipe in front of you. The recipes are yours to keep along with an instructional DVD. In hindsight I'm kicking myself for not doing a second cooking class, I would have loved to have a more authentic experience like visiting the local markets to purchase ingredients produce followed by a class in the home of a local. Many classes like these were advertised and I'm annoyed I didn't sign up for one.
Massage
A must do in Thailand is get a massage, and no, that's not code for something more dodgy! Like tailors, there's a masseur/beautician/spa on every corner, or dotted along the beachfront in little huts. These services are so inexpensive. A pedicure/manicure will cost you NZ$4 ($6 for an OPI pedi/mani). An full Thai body massage, an hour in duration will 'set you back' NZ$6. We took to getting a manicure/pedicure or a massage after a hard shopping, trip, or even after dinner and drinks as most massage places in town are open until 11.00pm. Even our little man got in on the massage action – he would regularly fall asleep during his massage and we'd have to carry him home. Actually, he enjoyed his massages in Thailand so much he's taken to screaming out "Massage Madame!" from his bed at night. Cheeky monkey.
Technology
WiFi was available at our resort but at astronomical rates (e.g. NZ prices) so we gave this a miss and purchased SIM cards with pre-loaded data instead! These are widely available, are inexpensive and are a bloody good idea if you want to avoid returning home to a heart-attack inducing phone bill.
Partying
I'm well past staying up all night and drinking till sunrise, but on the recommendations of my twenty-something brother and his gorgeous girlfriend, I have it on good authority that Ark Bar, Reggae Reggae and Green Mango are party central. They had some stellar nights out, made some great friends and gave Koh Samui top marks as a party destination. With the timing of our trip we missed out on the infamous Full Moon Party but actually, after hearing horror stories about these (drink spiking, violence, out of control massive crowds), that's probably a good thing.
Shopping
If, like me, you enjoy a bit of retail therapy, you'll enjoy bargain hunting and bartering in Chaweng's markets. Although be prepared for fake everything. We came home with loads of t-shirts for the boys, all brand names like Quicksilver and Billabong: The most we paid was $6. We'd been warned to check the t-shirts for quality, which we did and all of the t-shirts, five months on have washed and worn well, albeit a few have shrunk in length slightly, but that's all! Being a size 12-14 I was really limited on clothes to buy, so if anyone is looking for a business opportunity in Koh Samui: Open a shop selling clothing with 'real sizes'! You'll make a bomb! On my third day in Koh Samui I realised I was under prepared in the swimwear department and was going to need to buy a second bikini. I approached a vendor on the beach who was had loads of cheap handmade bikinis. I gestured to my 'girls' and asked her if she had a bikini in my size. "I have jumbo cup for you!" she screeched at the top of her lungs and subsequently thrust a two piece at me. I was mortified but managed to see the funny side. I'm not sure it was her best sales pitch, but I handed over my NZ$7 and went on my way.
Once I'd gotten over being considered a jumbo by the locals I loaded up on 100% silk pashminas and scarves, again the top price I paid was $6. I bought lots of makeup bags, all fake Mulberry or Cath Kidson. If you like skincare and makeup, you'll be rapt to find that Chaweng has two Boots (quality UK chemist chain) on their main street and I'd recommend going nuts: Lots of brands like Maybelline and Revlon are made in Thailand, so you can pick stuff up at a fraction of the price due in part to no shipping or import costs. I got my favourite Maybelline mascara for $9, tweezers for $2, deodorant for $2. Mum and l went crazy buying lotions and potions form the Soap and Glory range which is half the price of what it retails at in the UK (sad story, Mum put her lotions in her hand luggage and had the whole lot confiscated at the airport, so remember to pack items like this in your main luggage).
There's a couple of stores selling DVDs and CDs, you name the movie or artist, you'll find it there. Check the disks for scratches, I didn't and got some jumpy ones, bugger! Each disk is $2.50. Don't bother bartering, both shops are owned by the same person, they've got a monopoly (and they know it) and won't budge on price.
If you are a handbag fanatic, you'll be pleased to know there are awesome handbag retailers in Chaweng, much like what I found in Bangkok, but with slightly higher price tags. But if you are after a kick-ass Mulberry, Gucci or Balenciaga etc knock-off handbag (that's so good you can't tell it's fake), you'll find several of these airconditioned stores on Chaweng's main street. Other purchases that we were rapt with were super long extension cords for electronic devices at $3 each, Havaiana jandals and knock-off watches.
Shopping mall wise, this was fairly slim picking when we were there, although a shopping mall was under construction in Chaweng when we were there. To be honest though, this didn't bother us, we didn't go to a tropical island to experience a 'could be anywhere in the world shopping mall'. That said, we did visit Tesco Lotus, a large shopping centre, located between Chaweng and Bo Phut, north of Bangkok Hospital. Here you'll find a big supermarket, clothes, household equipment, electronics, toys etc. There's also other shops including retail DVDs/CDs stores, Beauty Buffet, cafes, sushi, electronic stores as well as a cinema and bowling alley in the same complex. Click here for a great (accurate) website with more info on shopping in Koh Samui.
Paying for stuff
When shopping, at the markets you'll need to pay by cash (and there's an ATM on every corner which makes life easy). In all of the actual shops you have the option of paying by EFTPOS or credit card. The hardest thing is getting used to the value of the Thai currency: My maths isn't my strong point and working out the conversions was tough to start with, but you get used to it! Top tip, download the Forex app on your smartphone and you have a currency converter at the ready at all times.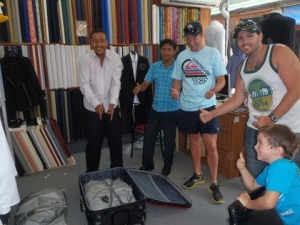 Tailor-made
Koh Samui, like lots of parts of Asia, has tailors in abundance. We got clothes made there, and, knowing what I know now, I wish I'd had more stuff made. Between the six of us we left with five suits, ten shirts, three jackets and for me – one winter coat and a pair of shoes. Choosing a tailor is the hardest bit, they are everywhere and they're totally in your face. Expect to get accosted walking down the road by tailors desperate for your dollar. To save time and get some assurance, simply ask at your resort who they recommend, they'll have a good feel for the local market.
We got lucky with our tailor, Saville Row, which is in the centre of Chaweng, down the same alleyway as the Mexican Cantina (next door to the place on the corner with the fish tanks where you put your feet in and the fish nibble off your dead skin). We were looked after by Jamie and he and his colleagues were brilliant: Honest, well priced, excellent at their trade and heck, talk about speedy: I rocked up at 8pm at night and ordered a winter coat (I pointed at a coat in the Armani catalogue and went 'that'll do', I was tired, grumpy and hot!). I was measured up on the spot and asked to pop in late the next afternoon for a fitting. Well, bugger me, the coat was half made when I went back the next day and it was ready for pick up 48 hours after ordering it! It's stunning and perfectly made for my curves: Dark grey, 100% cashmere and it looks identical to the one in the Armani catalogue. Price? NZ$110. It's the little things that go a long way too – their fridge stocked with ice cold water was hugely welcome.
Getting clothes made couldn't be easier. Every tailor has a pile of catalogues (Dior, Hugo Boss, Ralph Lauren etc). You point to what you like and they'll whip out their tape measure and size you up and, don't ask me how, they match it exactly to the catalogue picture. A good tailor will take one look at your figure and provide guidance on the best style for your shape: Jamie did this for us and he was spot on with his suggestions.
Knowing what I know now if I was getting married again (touch wood!) I would have no qualms about booking a beach wedding in Koh Samui. I'd rock up to a tailor four/five days before my wedding with a photo of my dream wedding dress and get all bridal party outfits made there, but then again, I have the kind of personality type that can happily cope with leaving getting a wedding dress at the eleventh hour (case in point, here's a little article I wrote for NZ's Stuff website on my slightly unconventional marriage proposal and wedding…) How did I buy my wedding dress? This was purchased a week before my wedding after a champagne breakfast, an hour before I graduated from university. Anyhow, I digress, my point is, you'll save thousands of dollars in bridal party outfits by getting these made in Koh Samui! Alternatively, if you are more traditional, you may want to look at a WEDDING DRESS FRANCHISE more local to you to find the perfect dress for your wedding.
A couple of tips though: When choosing your fabric take the ream of fabric outside and look at it in natural light to check it's not cheap and shiny. Also, once you've chosen your fabric, ask for a off-cut swatch to keep. This is a good idea so that you can compare the fabric of the item you get back to the fabric you ordered… Our mate Nigel ordered a navy suit in Bangkok and when he went to collect it the one the tailor had made for him was purple… Nice (not).
Wrapping it up
As you've no doubt gathered by now our family holiday to Koh Samui more than delivered on our expectations. In a way Koh Samui reminded us of Rarotonga. Both islands share mountainous jungle, coconut trees, heat, humidity, golden sand. The natural beauty of both islands is utterly breathtaking. However geographic similarities aside, the two locations are vastly different: Koh Samui, as my Hubby so articulately put it, is like Rarotonga on steroids! I loved it and didn't want to come home. I only wish I had my own luxurious Koh Samui Property to retreat to when my fondness for this place grows too strong – maybe one day that dream will become a reality! I just don't get it when you come home after a big trip and people ask "Pleased to be home?". My answer is never "yes", I go through a grieving process and feel like a bird trapped in a cage for at least a month. Anyhow, I'd love to go back to Koh Samui, although I know probably never will: I'm itching to explore more of Thailand like Chang Mai, as well as more of Bangkok (3 days was not long enough for this crazy city that I fell head over heels in love with, I really want to go and live there for a year or two!). Then again… Maybe I will become a tour guide…
If you want a destination that offers versatility, affordability, activities for young and old, or for a destination where you can do as much or as little as you like – book a holiday in Koh Samui. You won't regret it!