Raro. The capital of the Cook Islands, a Pacific island holiday destination that's 32km in circumference and more-or-less a hop skip-and-a-jump from NZ. It's also the name of a powdered flavored juice Mum used to make up for us when we kids (that I wouldn't touch now on account of the sugar content).
Late September saw three of us, my Mum, my son and I, winging over to Raro (or Rarotonga as it's officially known) for a five night holiday to rest, relax, replenish, but not shop, coz', frankly, there's nothing to buy. Hubby stayed home on account of work and to keep an eye on the cat.
We've been to Rarotonga before, five years ago, for Christmas. The whole family went that last time, including my brother and his best mate (my brother's girlfriend was supposed to come but they broke up before the trip, the flight was non –refundable, but transferable, so Ben came instead). Oh, and Trevor from next-door came too. We've always had the kind of family where hangers-on are encouraged and welcomed: They spice things up and make life more interesting. That trip was most memorable for me as we left NZ on 21 of December, which happens to be my birthday. Then, bonus, on account of crossing the International Date Line, we arrived on 20 December. I milked that.
I digress. We didn't intend originally intend to choose Raro for our getaway. Mum and I were keen to have a cheap trip somewhere (despite looking at holiday lettings over in Europe on Rental Cloud) and we'd set our sights set on some good deals for Aussie. I pulled the pin on that idea at the 11th hour though: I'm a hard core shopper and realised that by the time I'd visited one shopping mall I'd have maxed out my AMEX blue cash card and hubby would have cancelled the new bathroom renovations. Raro, which is far from a "shopping destination" was an appealing option and there were some good deals on. Interestingly, having done some very informal research, everyone I talked to who had visited both Fiji and Raro favoured Raro for a return visit. So, that was that. I'd only have to exercise shopping constraint at Auckland Airport's Duty Free (I did well!). However, when pressed, they did say that they are making that choice because they hadn't visited a fiji resort so couldn't compare!
Getting there is easy: Hop on a flight from Auckland, watch two movies, eat a meal, drink a few vinos, four hours later you are there. We flew Air New Zealand with 'The Works' package and, as usual, Air NZ lived up to their sensational reputation, everything was perfect. It's an easy flight to do with kids, my son barely took his eyes off his in flight entertainment, apart from when he was tucking into his Kapiti ice cream dessert.
Arriving in Raro, just like last time, there with his voice and a ukulele, is 75 year-old native Rarotongan Jake Numanga, who lovingly serenades all new arrivals from his spot on top of the baggage carousel. He starts playing when the first person enters the airport and wraps up when the last person leaves with their luggage. He also farewells in the departure area. I read somewhere he's been doing this gig for 31 years, playing for up to 2-3 flights a day, an average of 20 flights per week. That's the definition of an engaged employee. It's an awesome touch!
Getting to your resort/accommodation, if there's an option, opt for an airport pickup. Aside from ruling out any faffing around, you'll be greeted with a friendly "Kia Orana" and bedecked with an ei (like a lei, but Cook Islands style) a traditional flower garland, a practice I hope lives on forever.
Currency: Getting cashed up to travel couldn't be easier for Kiwis as The Cook Islands uses the New Zealand dollar. If, like me, you have strengths that don't include maths, then not having to faff around converting currencies in your head is a welcome relief.
Weather situation: I'm half English, so let's talk about the weather for a moment. The Cook Islands boasts great weather all year round. There's sod-all variations in seasons and temperatures will range between 18°C and 28°C in the winter months (May to October) and 21°C and 29°C during the summer (November to April). We found the temperature to be pleasant, certainly not stinking hot, and slightly humid. It wasn't quite warm enough for swimming though, which was a shame. That didn't deter my son at all, but it was a tad too icy for me to do the obligatory dive under! By contrast, when we last visited (December) that was a different story entirely. It was high twenties every day and it was just as well I didn't really wear makeup back then: It would have melted off. We lived in the pool/beach.
Accommodation

There's no shortage of accommodation options on the island. This time we stayed at The Rarotongan Beach Resort & Spa, favouring this spot primarily as it had a kids club. I loved the idea of dropping the boy off at the Kids Club whilst enjoying a few quiet hours of R&R, free of parental responsibilities.
Unfortunately, The Rarotongan didn't live up to our expectations. Simply, their poor customer service is their Achilles heel. If this was put right I'd have no hesitation recommending it as a world class resort in a spectacular location. There were a few staff who went out of their way to be helpful, but generally speaking, their service offering was easily the worst I've encountered anywhere in the world. Bear in mind I'm a tough customer to please: I worked on tourist resorts in Europe, I've got a tourism management degree and as part of my day job I'm a customer service trainer. Yeah, my expectations are high. I feel for the staff working there, having chatted to a few of their team (the friendly ones) it seems their staffing has been reduced and they are 30 staff down on usual. That's got to impact staff 'happy levels'. Unfortunately it also impacts the customer service experience and, reading through the Trip Advisor comments (after I got home, luckily) we weren't the only holidaymakers who left feeling disappointed. By contrast, I've got to do a plug for Palm Grove where we stayed last time: A small and quaint resort at the southern end of the island, it was fabulous with welcoming and super-friendly staff.
Focusing on the positives of The Rarotongan Resort, because there were some: The resort itself is beautiful. The rooms were nice, simply furnished but had all that we needed (I hasten to add I think it's really pricey for what you get). The pool area was fantastic, my son spent every waking moment busying himself around the pool and making friends. There's a sensational activity hut which is stocked with every conceivable water sports paraphernalia and even tennis rackets if you fancy braving the humidity for a workout (I had honourable intentions…). The Moko Kids Club, as I'd hoped, was brilliant and my shy little boy made some friends and had a blast.
Getting out and About

Exploring Raro's 32km of coastal paradise is easy and you can hire a push bike/scooter or to be trendy, a kick scooter or a car with ease, or, you can have some light entertainment on the round-the-island bus (we met a few characters). There's two bus timetables: The clockwise one travels on the hour and stops at designated stops as well as on request whilst the anti-clockwise bus is a bit more regular with a half hourly timetable. After 6.00pm the anti-clockwise bus stops so you'll need to catch the clockwise bus home. Depending on where you are staying – it could be a long trip! Bus fares are reasonally priced: NZ$4.00 one way, or $7.00 return.
If you are travelling in a group you might do the math to see if a rental car is a more cost effective and flexible option. Prices start around NZ$55-60 per day. Incidentally hiring a rental car is easy for New Zealanders, you just need to show your driver's license and passport from back home. You used to have to obtain a Cook Island driver's license, which resulted in a bit of fannying around at the local Police Station, but they've thankfully relaxed the rules in recent years.
Hiring a scooter at NZ$25 per day to explore the island is a blast and a popular option – they are everywhere. We didn't hire scooters this time on account of having a small person with us. Besides, I think I've become more health and safety conscious (or, quite possibly old and boring) in the last few years as I felt uncomfortable this time at the lack of scooter-goers wearing safety helmets (it's not mandatory in the Cooks). Judging by the number of tourists we met in varying stages of grazing/bleeding and gauzed up, I reckon it's lucky I'm getting old and boring.
Foodie Love
Being the foodie that I am, I love the holiday hunt of finding my next meal! Before I share my favourite spots, let me comment on the prices as everyone inevitably mentions how expensive it is to eat out in Rarotonga. I think this is a little unfair for two reasons. Firstly, it's an island; the majority of food needs to be freighted in, so this has to be reflected in the price. Secondly, prices are more or less on par with eating out in NZ and Aussie (which also isn't cheap!). So, if you want to keep costs down, take food with you from home! We loaded our suitcases up with crackers, cheeses, nuts, vacuumed packed meats and this served us well for island-style antipasta platters for lunch. This kept costs down and meant we could stay close to our sunlounger when hunger struck (as opposed to going in hunt of food).
Eating out, The Waterline Restaurant and Beach Bar was a standout for us. Featuring simple and quality home cooked tucker, the restaurant has an idyllic beachfront location in the middle of a coconut grove. The décor had us enchanted: Nautical pieces and shells everywhere, which is clearly a nod to the owner, a former charter boat captain. We loved it so much we went for dinner and then back again the next day for lunch. It's a popular spot so bookings are advised. You can ring up, or leave a note on the blackboard outside! Note, it's not the easiest place to find, it's just down from The Edgewater resort in Aorangi, follow the dirt road down to the beach and stop when you get to the end! Take your camera as it's a mesmerising spot.
Muri Beach has an abundance of eating out options and we ate like kings at The Rickshaw at Muri Beach. This offers delicious and reasonably priced Vietnamese, Malaysian and Thai food, complete in a gorgeous setting with candles and fairy lights. LBV (Le Bon Vivant), also located in Muri, is a delightful café/deli/bakery with French inspired breads and cakes, not to mention a cold cabinet groaning with delicious salads and sandwiches. They also delivered us (Kiwi coffee snobs) the best coffee on the island. Again, this is a popular spot so try and book ahead for dinner.
In terms of local fare I went in hunt of Ika Mata, a raw fish and coconut cream salad that's "cooked" in lemon juice and prettied up with diced vegetables. It didn't disappoint and I'll be whipping this up as something unique for Christmas Day lunch in a few months (if it's good, I'll blog the recipe).
My favourite dish in Raro, hands down, was rakau, a fabulous, rich combination of cooked taro leaves and coconut cream, a fancy island version of creamed spinach. I got this from the chiller at Wigmore's Superstore for $5 (I got hooked on it during our last visit) and, once again, I just couldn't get enough of it!
The best drink in Raro was, hands down, a simple coconut. The ripe ones hold up to 1L of coconut Nu (or coconut water) and the locals sell them de-husked on the side of the road. I picked up one out of the chiller on at a beachfront stall. Amazing.
Stuff to do
Action wise, there's as much, or as little, to do in Raro as you like. We opted not to do too much so that we could truly embrace "island time as we were knackered and, besides, we'd explored much of island on our last visit. We did take a trip back to Maire Nui Gardens though. As well as being known for their lush tropical gardens Maire Nui's charming thatched roof dining area also boasts "the best cheesecake in Raro" (I gave this a mess on account of Sugar Free September). Meandering through Maire Nui's lush vegetation is a lovely way to spend an hour or two and I was in my happy place with my camera snapping away at flowers and plants you'd not see back home. Entry fee is a $5 donation in the honesty box.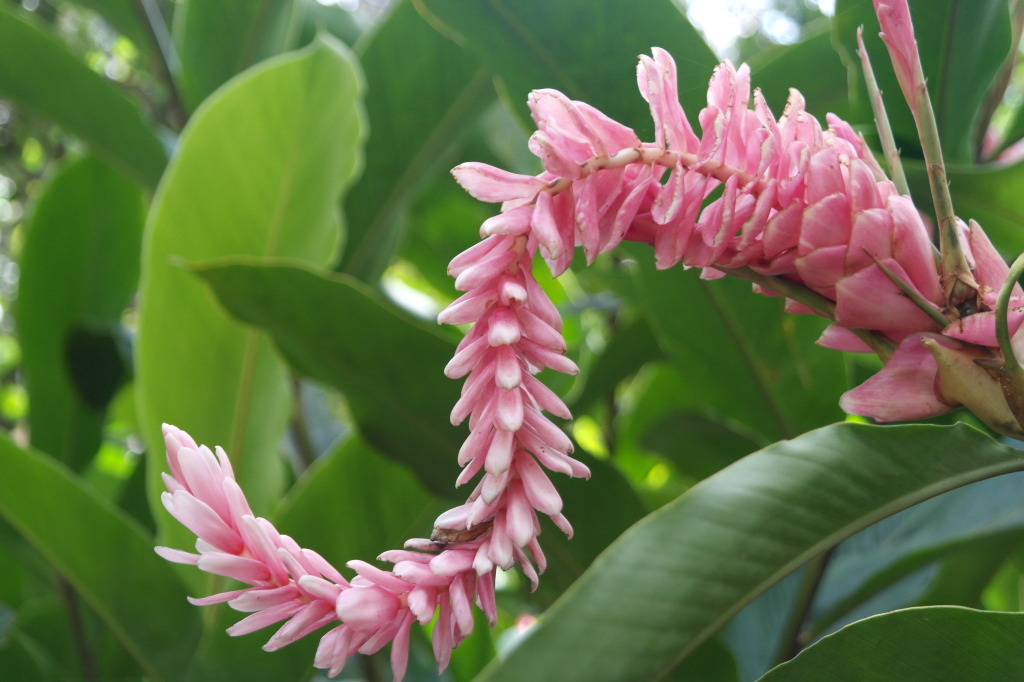 Muri's Night Market is apparently a 'must visit' – I say 'apparently' as it had been highly recommended to us, but I've since learnt that Wednesday is not the best night to visit as there wasn't much happening: Thursdays are 'the night'. Bugger. There's local cooked meals at reasonable prices and, assuming you pick your night more wisely than we did, there'll be local wares for sale. The band was definitely cranking the night we visited: Two guys with great voices strumming their guitars (fundraising for a tour of NZ) and they kindly took requests.
The market to visit is, of course, the Saturday morning Punanga Nui market in the centre of Avarua (town). Sadly we flew home early Saturday morning so we missed it this time, but it was a super enjoyable experience five years ago and rumor has it it's exactly the same! There's a colourful variety of local fruit and vegetables, flowers, music, local crafts and food vendors. I had the best smoothie of my life there.
And that was pretty much five days in Raro gone. It was the perfect getaway break and we all fully embraced island time and felt relaxed and rejuvinated. At the airport as we left, true to form was Jake and his guitar, serenading us. I love how some things never change.
I could write about Raro for hours. It's a perfect spot for a family holiday and a place that holds many happy memories for me. If you are looking for a relaxing island destination, one that offers minimal shopping opportunities, it's a tip top location. Just do a bit of careful research before you book your accommodation…
Now for my next holiday. I have a serious travel bug I'll never shake… Our sights are set on Vietnam next time… But there's a small matter of paying for the bathroom renovations. Sigh.