Super speedy eyeshadow is my favourite. So is a bronze eyeshadow look.
I watch a lot of makeup tutorials on You Tube and read a lot of beauty blogs. I've been musing lately how detailed and complicated makeup is becoming with a lot of the beauty gurus I follow (not all, but definitely some). So much so, I was inspired to go against the grain and do something a bit more simple. Something you can whack on and be out the door in 5 minutes and it looks like you've gone to oodles of effort…
Products used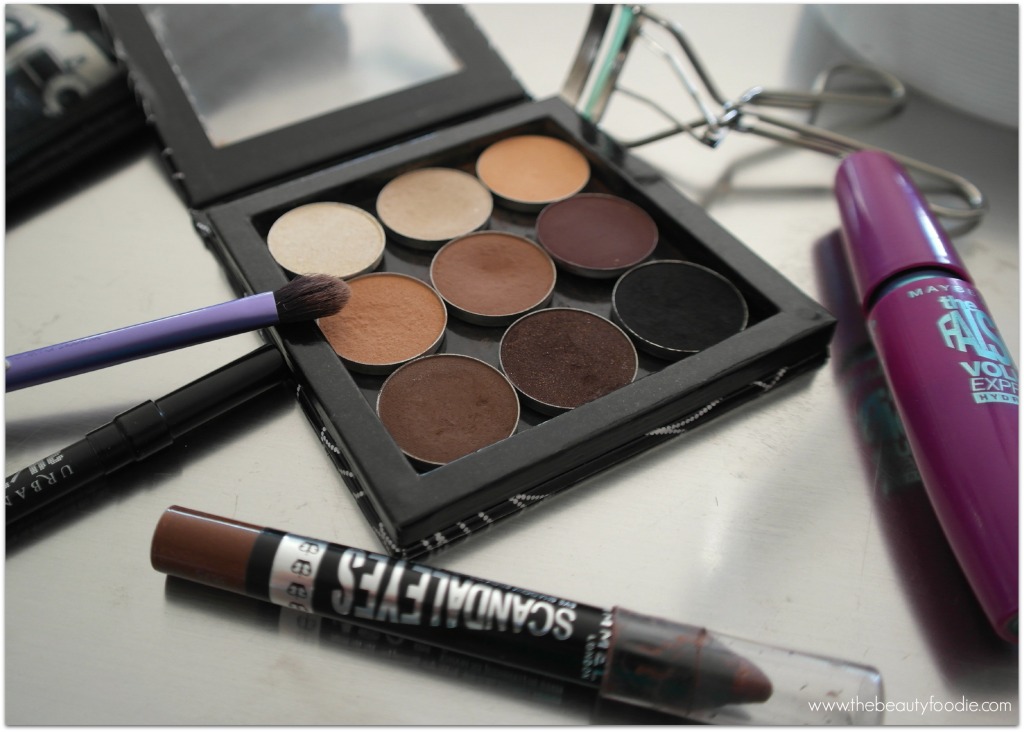 If you are a bit of a newbie when it comes to makeup, the product above might still look like a lot but I promise, you only need a few things!
Bronze eyeshadow or crayon stick/jumbo eyeliner. These 'apply and blend' jobbies have become quite en vogue of late as you just whack it on and blend it out. I've used a Rimmel London cheapie called Bad Girl Bronze. It's not the most ah-mazing eyeshadow crayon, but it does the job.
A medium matt brown eyeshadow: Heck, use a light coloured bronzer or a dark face powder if you like. I used Creme Brulee from Makeup Geek which, as boring as the colour looks, is the most reached-for eyeshadow in my makeup collection, it's the perfect blending out colour!
A fluffy blending eyeshadow brush: I used Real Technique's Base Shadow brush.
A black eyeliner: Anything will do. I use Urban Decay's 24/7 Glide on Liner in the colour Perversion. I wittered on about my love for this eyeliner in this blogpost.
Mascara: If you are eyelash obsessed like me, grab an eyelash curler too. I love Maybelline's The Falsie's mascara and Shu Uemura eyelash curler (the best curlers ever, in my opinion)
Eyeshadow primer: If you have oily eyelids (if not, flag it). I used Art Deco's Eyeshadow Base (not pictured)
What to do
Warning! The only thing I will say about this Rimmel London's Scandal Eyes crayon stick is that I find it does crease on my oily eyelids, so definitely use an eyeshadow primer with it if you suffer from oily lids like me.
So, what did you think, not too complicated, right?