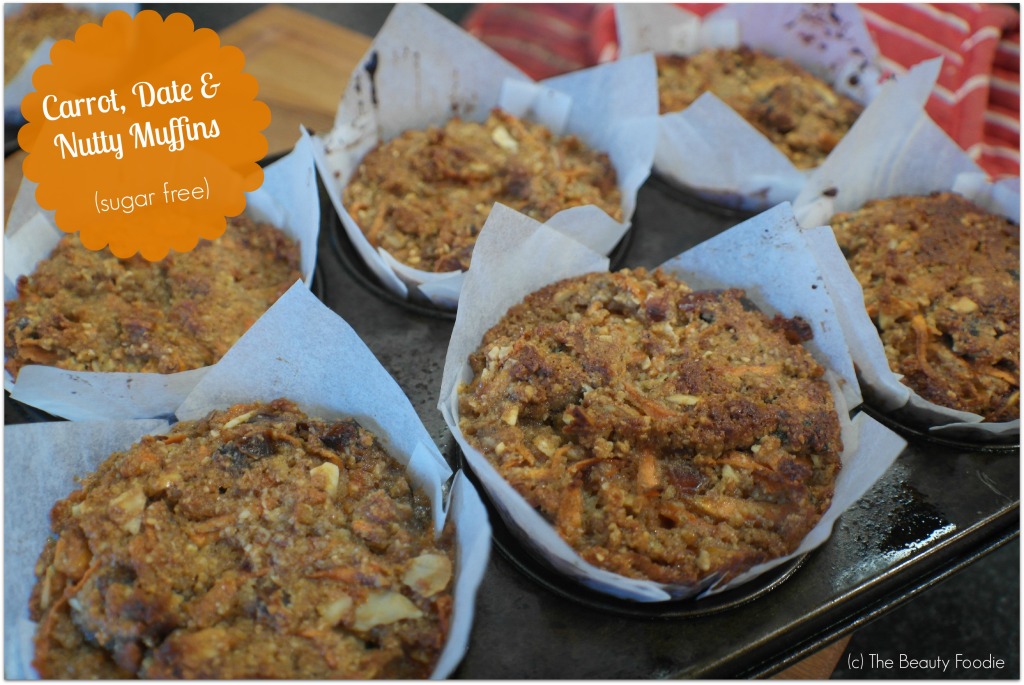 One of the main reasons I've really enjoyed #sugarfreeseptember as it's forced me to try out new recipes. I know you probably think I try out lots of new things, but, to be honest, I often churn out the same thing: Tried and true family favourites. It's been good to get out of my comfort zone this month.
Anyway, I've struggled a little with ideas for baking to satisfy my Husband's super-dooper sweet tooth. I struck gold when I chanced upon a recipe in Taste magazine which was a recipe from Auckland's Wilder & Hunt cafe for their bestselling Morning Glory Carrot mini cakes. Being sugar free these looked right up our alley. I modified the recipe a little to suit our taste buds, as well as to comply with what was in the pantry! The result were these glorious Carrot, Date and Nutty Muffins that'll absolutely make again!
Carrot, Date and Nutty Muffins Recipe
Adapted from Wilder & Hunt's Morning Glory Carrot Mini Cakes (as seen in Taste magazine)
Ingredients (Makes 12 muffins)
Bowl One:
2 and 1/2 cups ground almonds (almond meal)
1/2 c LSA (or add another 1/2 cup of ground almonds)
3 teaspoons of mixed spice
1 teaspoon of baking soda
Bowl Two:
3 eggs
1 ripe banana, mashed
1/4 cup of melted coconut oil
Bowl Three:
3 cups of grated carrot
1 cup of dates, finely chopped (cover them in boiling water for 2 minutes: Then drain them and chop them: It'll be much easier and you'll add some moisture to them).
1/2 cup of sliced almonds
1/2 cup of walnuts, chopped
Preheat oven to 160 degrees (normal bake). Grease and line 12 muffin tins with baking paper/cupcake liners (I used medium sized muffin tins).
Place all 'Bowl One' ingredients in a medium-sized bowl.
Place all 'Bowl Two' ingredients in a large-sized bowl and beat together (you can use a cake mixer or hand held beater, or go hard with your elbow grease).
Place all 'Bowl Three' ingredients in a medium-size bowl and stir together.
Add 'Bowl Three' to 'Bowl Two' and mix together. Add ingredients from 'Bowl One' and fold through the rest of the mixture.
Spoon mixture into 12 muffin tins and bake for 30-35 minutes (until a skewer comes out clean)
When cooked, transfer to a cooling rack.