I often get asked about my all-time favourite makeup products and I figured a round up of my 'all time favourite', 'can't live without' products would make a great post. I guess this post could also be called "If my makeup bag got nicked, I'd replace it with…"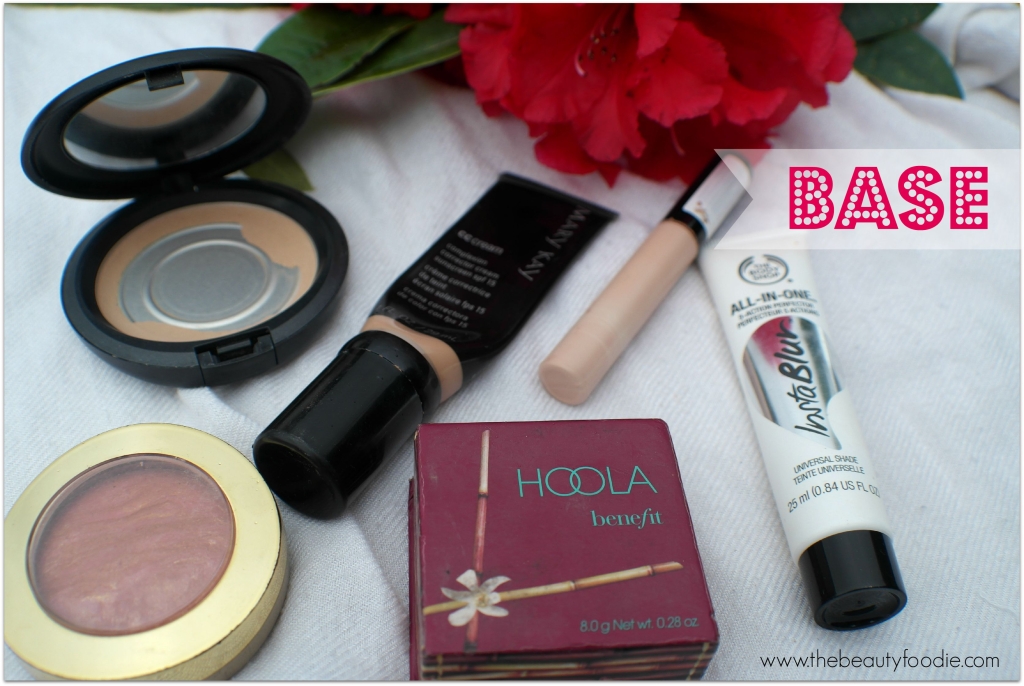 Primer…
I raved about this in a recent favourites post: The Body Shop's Instablur. LOVE…. I've been doing Crossfit for the last couple of months, in the middle of the working day, when I've had a full face on. Long story short, I leave, and I still have a full face on. My Sport-Billy colleague Nat, who runs at lunchtime, and also has oily skin, is also blown away at how makeup lasts with Instablur. I love it so much – I just bought my second tube this week!
Base product…
Mary Kay CC cream (complexion corrector) It's a super light coverage which I adore for day-to-day wear as I don't like to look like I have a lot on my skin. It balances out my skintone and I love it's super natural, moisturising and dewy finish which makes it's more like a tinted moisturiser. It's also SPF15, bonus. Note, This isn't for you if you like a good amount of coverage!
To cover zits and under eye shadows…
For price and quality you can't go wrong with this NZ$16 Collection Concealer from Countdown. It is thick enough to do a stellar job at covering zits, but moisturising enough to wear under my eyes to correct shadows. It's hard to find a concealer that does both jobs!
Powder
With my oily skin, locking my base in place with a fluffy brush and a powder in my T-zone is a must. Again, I don't like a lot of coverage, so MAC's Blot Powder is a pressed powder that gets my thumbs up for its minimal colour, finely milled texture and very sheer finish (i.e. you can't tell you are wearing it) I have never managed to get this to look cakey! This is good for touch-ups during the day too. Can't remember the price, sorry!
To fake a bit of a tan / look less like death warmed up…
I've tried a LOT of bronzers, Benefit's Hoola Bronzer deserves its cult beauty product status. This is a matte bronzer which you can swirl on with a big fluffy brush on the high points of your face to look like you've been sun kissed, or you can use it as a contour powder around the hairline and in the hollows of your cheeks to give definition to the face. From Benefit stockists nationwide.
Blush…
Again, for price and quality, Milani's baked blush in the colour Rose d'Oro sings to me. It's my go-to everyday blush and I got it for about $5 at one of those Beauty Bucket sales that regularly tours NZ. I've had this for ages and have since bought a few MAC Mineralise Skinfinish blushes which are really similar (and these are most certainly not $5…). It's a gorgeous pinky coral blush with a shot of shimmer to liven up dull skin – but it's not too full on. Where to buy? Bizarrely, there's Milani stands scattered around NZ, usually at those Asian emporium like shops where you go to buy fancy dress costumes or ribbons (?!). Otherwise, hop online – there's a tonne of stockists.
Eyeshadow
If I had to pick one brand of eyeshadow I rate, above all others, it's Makeup Geek. You get serious bang for buck and the quality is top notch. Here's a post I did a while ago waxing lyrical about Makeup Geek, get more deets here!
Anyway, was so easy to pick just one eyeshadow, despite owning, um, a few drawers crammed with palettes and single eyeshadows. Makeup Geek's Prom Night is my ALL TIME FAVOURITE EYESHADOW. I raved about it here.
Mascara…
Oh, Lancome's Hypnose Doll Eyes mascara (waterproof), how I love you…. The plumping and lengthening work that this product does is, frankly, ridiculous. I'm on my second tube and have a third ready to go. As an avid eyelash curler, this also keeps my eyelash curl in place all day. Price: NZ$58. It's TOTALLY worth the steep price-tag.
Brows
These are so important. I'll never get off my soap-box of begging women to do their brows. I adore Anastasia Beverly Hills Dipbrow Pomade and this got featured in my 2014 Favourite post. 'Nuff said. It's worth ordering this online from Aussie (Beauty Bay have it). Price: AUD$30
Lipliner(s)
OK, so it turns out, I can't count and I'm not a rule follower. I couldn't pick just one lipliner… First up, MAC Dervish: Neutral, pinky-mauve. Super versatile, it goes perfectly with all of my pink and neutral/nude lipsticks. I like to ever so slightly overline my lips when I'm going for a neutral look and Dervish this works well by making my lips look slightly fuller, but not fake.
My other favourite lipliner is from NYX in the colour 'Purple Rain'. It's a magenta toned colour, with a matte finish. It goes beautifully with two of my favourite bold lipsticks, MAC Up The Amp, and The Body Shop's Colour Crush lippy, 240 Damson in Distress. Like Dervish, I often wear Purple Rain on it's own, with balm or gloss on top. FYI, MAC Heroine lipliner is nearly the same colour…
Lipstick
This is an easy one! MAC Syrup lipstick. I'll be needing a third tube soon. This is the perfect everyday lippy, it's a cool toned pink, with a slight hint of purple and it's just bloody perfection. Actually, sod wearing it during the day, I often rock this at night. NZ$38 from MAC. Tip: I also keep Syrup in my daily makeup bag to use as a cream blush! Whack some on your cheeks and blend in with your finger.
Lip gloss
I've discovered the Essence Cosmetics at Farmers recently and got 022 Nude Kiss lip gloss for something ridiculous like NZ$4. It's a simple sparkly pale and nude pink, goes well on top of any colour lipstick (hell, it's fine on its own) and it doesn't leave my handbag. Note, not all Farmers stock Essence, yell out if you want a list of who does!
And there we have it – My 'top picks'. What are yours?